September 14, 2010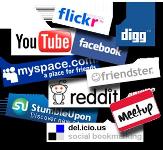 NM Incite helps Canadian companies leverage
social media intelligence
Joint venture between Nielsen and McKinsey harnesses power of SM
The Nielsen Company (Nielsen) and McKinsey & Company (McKinsey) today announced the Canada launch of NM Incite, a global joint venture between the two companies.
The joint venture has been created to help leading companies harness the power of social media intelligence to drive superior business performance. NM Incite gives companies the capabilities to better understand value and take advantage of the rich insights made possible by social media.
"NM Incite will help our Canadian clients incorporate social media insight and intelligence into their organizations, enabling them to leverage it for growth and take full advantage of what is possible," said Lisa Eaton, Managing Director, Nielsen Media Canada. "There is a deep business need to better understand all of this because it is clear that today's social media data has the potential to transform their businesses."
McKinsey will contribute client capability building and expertise in the areas of marketing and sales, organization, and service operations. McKinsey serves multiple clients and has developed proprietary knowledge and distinctive insights in areas such as digital marketing, marketing ROI, word-of-mouth marketing, and consumer purchase behaviour.
"As our clients' needs evolve, so our firm continuously innovates in the way we work" said Dominic Barton, Global Managing Director of McKinsey. "Social media is an increasingly critical issue for business leaders and an area of untapped opportunity for many of our clients. This joint venture will equip institutions with real-time insights to help their leaders drive better results."
NM Incite is headquartered in New York and is led by Dave Hudson, previously Executive Vice President, Global Client Services of Nielsen's Telecom Practice, as CEO. Mr. Hudson brings more than 20 years of experience in operating and consulting roles, working with clients to leverage Nielsen data to improve business performance and drive growth.
NM Incite builds upon the industry-leading social media and online brand metrics, consumer insights, and real-time market intelligence of Nielsen BuzzMetrics to transform business operations, including product development, marketing, communications, and customer service. With the creation of this new venture, BuzzMetrics becomes wholly a part of NM Incite.
Impact of social media on consumers
Aligning with the launch, NM incite released a new study of Canadian online households and their social media behaviours. The research showed that 68 percent of online Canadian households use social networking products with approximately three-quarters of them (74 percent) access it weekly and more than one-quarter spend 6 hours or more on the sites per week.
As for the geographic breakdown, there is an even distribution of social media access by consumers across all of the major cities in Canada. Of the English speakers in Canada, 70 percent of these users accessed their profiles and friends, while 65 percent of French users spent time on social media sites.
As for the demographics, while the under 35 group continues to dominate, the over 35 groups grow; 80 percent plus of 35-44 year olds and 66 percent of the 45-54 age group connect via social network sites and 47 percent of seniors are engaging.
NM Incite advises senior executives and delivers measurement tools and new processes to drive organizational transformation. The initial areas of focus are measuring and improving marketing effectiveness, product launch optimization, and customer service experience.
"The possibilities of incorporating social media intelligence with businesses are endless. It is becoming too powerful a marketing tool to ignore anymore, and NM Incite helps companies define and take action on social media insights to remain competitive," said Dave Hudson, CEO of Nielsen.