October 26, 2010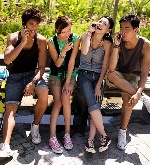 Mobility business could reach $1,000,000,000,000 by 2014, Gartner predicts
Revenue will be generated by a range of emerging services
Worldwide mobile voice and data revenue will exceed one trillion dollars a year by 2014, according to Gartner, Inc. Mobile will generate revenue from a wide range of additional services such as context, advertising, application and service sales, and so on. Each of these will be a significant business worth several tens of billions of dollars per year.
"We see three major eras of mobility," said Nick Jones, vice president and distinguished analyst at Gartner. "The device era was characterized by iconic devices such as the Motorola RAZR and was dominated by device manufacturers. This was followed by the application era which arrived with the iPhone, popularizing application and media stores. Going forward, the service and social era will build on the application era, but it will be characterized by cloud services and streaming media. Applications will survive, but often as a component of a more complex end-to-end experience involving the cloud."
In mature markets, smartphones will dominate device sales for the foreseeable future. However, the dominant mobile device type shipped globally will be feature phones without an identifiable OS because emerging markets dominate handset demand. Organizations operating in emerging markets should assume smartphones will be a niche device beyond 2014.
Many new device types such as tablets and e-book readers will emerge through 2012 and some will find a role in corporations. However, none will achieve a market share comparable to smartphones or laptops, which will remain the dominant corporate mobile devices. Mobile knowledge workers will require both a PC and a smartphone through 2014.
The smartphone platform space is very competitive, and the leaders will change through 2014 with Symbian is losing share to Android and iPhone OS (iOS). Android is gaining ground fast and will appear on consumer electronics and non-handset devices such as tablets.
"As the platform wars rage, a variety of new tools are becoming 'platforms' in the sense that they provide a user experience and framework for delivering applications," Mr. Jones said. "These include the mobile Web, where HTML5 will be very influential, OS independent 'platforms' such as Flash, and scriptable tools such as augmented reality browsers and mapping systems. In the long term, some will be absorbed into the OS or browser."
Gartner believes that context will be a defining principle of mobile business for the next decade. It will play a key role in many areas of mobile business, especially advertising and marketing.
"In 2010, we are seeing the beginning of simple context using location to suggest interests and to guide searching," Mr. Jones said. "Context will also be a key criteria for the selection of partners. Many mobile business systems will exploit contextual cloud services hosted by others. It will also be a major commercial battleground with powerful vendors such as Nokia, Google, and Apple striving to own the consumer's context. Context will also be bound up with social relationships and social networks, illustrated today by services such as location-tagged posts to Facebook and Twitter."