May 26, 2009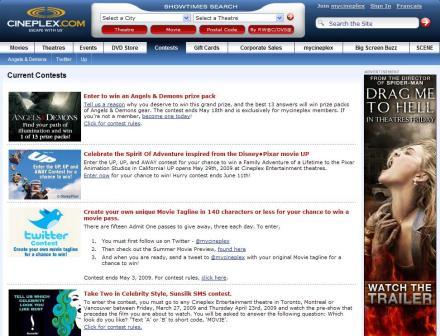 Cineplex brings social media to the big screen
Brand awareness goal of interactive campaigns
Although they wet their feet in 2008 with Facebook and the launch of their 'mycineplex' community, 2009 marked Cineplex Entertainment's real debut on the social media scene.
"The launch of mycineplex in 2008 was huge for Cineplex," says Diana Gallo, Marketing Manager, Interactive and Social Media for Cineplex Entertainment. "In terms of branching out to external social networks, Facebook was our first try at that."
In 2009, the company began doing more with the mycineplx community, using contests, Q&As and polls to encourage user interaction. They also began uploading videos to YouTube and sharing Cineplex content on bookmark sites.
"Times are changing and companies need to embrace and adapt to new ways of marketing their product or they'll be left behind," says Gallo.
According to Gallo, most of Cineplex's campaigns now include a social media component but the tools they use vary.
"Not all social media tools make sense for all initiatives," she says. "Just like any marketing, you have to choose your tools based on an understanding of your demographic."
Social media contests engage users
The company recently ran a contest aimed at Twitter users with the goal of generating brand awareness for Cineplex. Users were asked to write movie taglines for one of the movies profiled in their "Summer 2009 Films" gallery, using the 140 character limit imposed on the popular social networking site.
"We wanted people to know that we are more than a show times site. We have content. We used this to get people to the (mycineplex.com) site to engage in the content before they could send a tweet of what was being asked."
To promote the release of Angels & Demons, Cineplex ran a contest that was open to mycineplex members only.
"They were asked to post why they should win the swag pack," says Gallo. "We did this to provide mycineplex members with the some of the perks that comes with being a member. It was also a great way to increase awareness of the movie, the advance ticket sales, and promote that it is playing at a number of Cineplex theatres."
By integrating tools like Facebook and Twitter, Cineplex is able to offer visitors ongoing updates and timely information and to create a dialogue with users.
"We can't force people to come to our site so we have to go to them," says Gallo. "Overall we want to engage with our members and followers and let them know that there is a person behind the Cineplex brand."