July 6 , 2010
Summer means more traffic for travel site
Visits to PhoCusWright up 6 per cent
Heading into the season for summer vacations, visits to a PhoCusWright Canada Travel custom category comprised of 720 websites are up 6% for the week ending June 26, 2010 as compared to the previous week. The sub-categories within Travel that experienced the highest week-over-week upticks were Car Rentals (+15%), Cruises (+8) and Reviews and Planning (+8).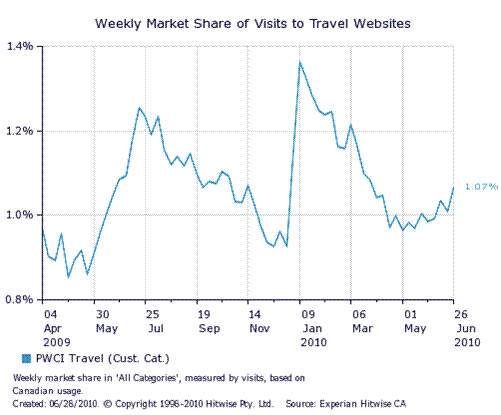 When looking back at the past year, the PhoCusWright Travel Category experienced the highest share of visits in January, followed by summer peaks in mid-July.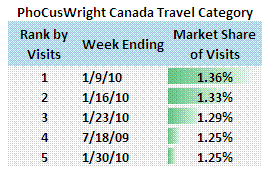 Search plays a key role in driving traffic to the PhoCusWright Travel websites and referred 36% of upstream visits last week. While much of search traffic within the Travel category tends to be heavily branded, the top generic term to grow year-over-year for the 12 weeks ending June 26, 2010 was 'vacation packages all inclusive'. Four out of the top 5 search queries including the keyword 'vacation' to increase year-over-year also included 'packages' or 'all inclusive'. This summer, Canadian travelers are increasingly showing a demand for fixed price vacations that are easier to plan to fit a budget, highlighting an opportunity to promote vacation packages within search campaigns and other marketing initiatives.
~Hitwise Intelligence - Heather Dougherty - North America