July 6 , 2010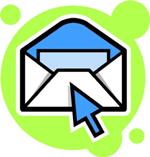 Canadians receiving 35 per cent less email according to Ipsos report
Other 'text' based communications starting to emerge as the face of online communication changes
Online Canadians have reported a significant decline in the number of weekly emails received, according to the latest Ipsos Interactive Reid Report. The average number of email received in the past week (including spam) has declined by 35% from 198 in late 2008 to 129 today.

Generally, 18-34 year olds do everything more online than their older counterparts. However, this age group now receives the fewest emails each week with an average of 116. Those respondents with high school educations or less also receive significantly fewer emails each week.
Study author Mark Laver noted that 'when you look at some of the new communications platforms, such as Facebook, Twitter and Messenger, that have taken off in the last few years the decline in email usage is really not that surprising, what is surprising is the size of the decline that is happening.'
One of the reasons that email usage may have declined so dramatically are emerging communications platforms such as Facebook, Twitter, and various Instant Messengers. In fact, Facebook users send an average of 16 messages inside of that platform each week. Those using MSN Messenger or Blackberry Messenger are sending even more messages on a weekly basis.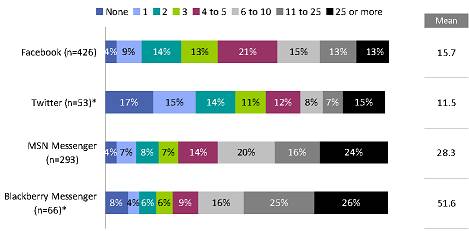 Interestingly, there are some demographic and gender differences by communications platform. Facebook tends to be used more often by females and those with lower household incomes. Twitter, MSN Messenger and Blackberry Messenger tend to be used more frequently by males. MSN Messenger is used more frequently by those aged 18-34, while Blackberry is used more by males aged 35-54, and those with higher household incomes.
Study author Mark Laver noted that 'people are still communicating online through text based communications, however these are starting to become more real time because in some of these platforms you can see when your contacts are online at the same time as you are. Email in contrast is based on hope. Hope that the message gets through, hope that the recipient is there, hope that they open it and hope that they return the message. The newer forms of communicating can be more instantaneous which may be one of the reasons that users are gravitating to them. These findings also have significant implications for those businesses that rely on email marketing for some or all of their business. These companies should be evaluating to see if social media platforms are an effective method for distributing their message.'