January 18, 2011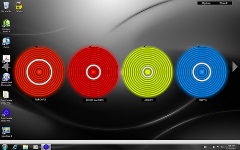 Global Mood Clock brings real-time data trends
to your desktop
Grey Canada's unique app combines fun and function
Grey Canada, a WPP-owned advertising agency headquartered in New York, has released a unique clock app to celebrate the start of 2011: "Global Mood Clocks."
Grey Canada's VP Executive Creative Director, Carl Jones, describes the Global Mood Clocks app as inspired by the classic office decoration of a " wall of clocks" that displays local time for multiple global cities. Grey Canada has updated that concept for the virtual office with a unique clock interface that displays real-time visualization of data trends on Flickr, Twitter and Google. Global Mood Clocks has now been released as an Adobe AIR app for Mac & PC, with an iPhone version coming soon.
Global Mood Clocks works by pulling geo-tagged data for a diverse selection of major cities around the world, including Los Angeles , New York and Toronto, as well as Moscow , Rio de Janeiroand Shanghai. The clocks, in addition to telling time, reflect the "mood" of a city by showing the dominant colour from the latest geo-tagged photo uploads to Flickr, as well as the top Google search and Twitter trending word, all in real time.
The app is intended as much for design and entertainment as function, says Jones. "Global Mood Clocks has a simple, modern design, and looks sharp at the office as a desktop background. It gives people a quick, fun way to discover what's happening around the world, from entertainment, to politics, to sports. We're very interested to see what trends will be captured by the app in 2011."
Global Mood Clocks is an achievement for Grey's digital team, who worked to integrate data feeds from the search and social media sources, and also to create an unobtrusive desktop user experience. Toby Pilling, Grey Toronto's Director of Development, comments, "We built the app in Flex, an Adobe open source framework that allowed us to bring Global Mood Clocks to multiple platforms, including Flash and mobile. Thanks to Adobe AIR runtime, it was easily deployed to Mac and PC desktops, where it runs passively as an ambient user experience."