January 11, 2011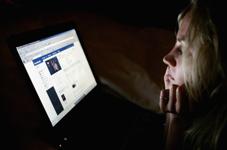 One in four teens use Facebook continuously
54 percent visit the site every single day
On the heels of the announcement that Times Magazine has named Mark Zuckerberg 2010's "Person of the Year", a new poll of American teens conducted by Ipsos Public Affairs has revealed that three quarters (75%) of teens have a Facebook page, and one quarter (27%) of them admit to accessing their Facebook page continuously throughout the day. Furthermore, two thirds (65%) of teens that can access the internet through their mobile device are continuous Facebook users.
Nearly three in ten teens (27%) check their Facebook page at least once a day, meaning that a majority (54%) of online teens are on facebook every single day. In contrast, 13% of teens access their Facebook page a few times a week, while 3% are on their page a few times a month. Just 2% of Facebook users access their page less than once a month.
Wade Valainis, Senior Research Manager at Ipsos adds, "The worry the last couple years was that as Mom joined Facebook and presumably started commenting on her child's posts, teens would abandon the social media giant in droves. This research shows that isn't happening yet."
The data reveal that some teens are more likely to be "super users" of Facebook, meaning they're on the site continuously throughout the day:
Teenage girls (30%) are more likely than boys (24%) to say they're on Facebook continuously throughout the day.
Those aged 16 (38%), 17 (34%), 15 (30%) and 14 (28%) are most likely to be continuously on Facebook, while teens aged 13 (18%) and 12 (13%) are less likely.
Not only are most teens on Facebook, but their devotion to the site begins at a young age. Fully one half (50%) of online teens aged 12 years old have a Facebook page. By the age of 13, the proportion of teens without a Facebook page drops to 35%, and then down to 17% by age 14 when it then levels out, suggesting that many Facebook users are solidified by the age of 14.
Contact Us
For rates, opportunities, media partnerships, or to other information please contact our media sales department.

{p: 905-201-6600}
{t: 1-800-668-1838}

Mark Henry
Sales Manager, x 223

Steve Lloyd, Publisher, x 225

Sarah O'Connor, Editor, x 221