December 14, 2010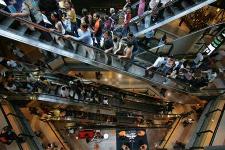 PayPal launches Mall Traffic Reports
via Twitter, drives online shopping
Users share holiday shopping updates and photos
This holiday season PayPal Canada is introducing "mall traffic reports" on Twitter through @PayPalCA. The reports are an easy way for shoppers to share information about wait times, store lineups and congested parking lots by posting tweets or real time pictures, alerting others to the busiest shopping destinations using the hashtag #ESCTheMall.
The campaign is a response to the findings of a recent Ipsos Reid survey conducted on behalf of PayPal Canada, which revealed that half of all Canadians find the crowds and long lines of holiday shopping frustrating. The survey also found that holiday shopping takes a lot of time – an average of five trips to the mall and 11 hours for Canadians.
"PayPal's goal this holiday season is to help those who are frustrated by the typical, overcrowded shopping experience to escape the mall," said Nicky Mezo, head of marketing at PayPal Canada. "With so many merchants now accepting PayPal through their websites, why not do more of your holiday shopping online, from the warmth and comfort of your home?"
The Twitter feed will also provide online shopping tips as well as timely retail news, and will be integrated with PayPal Canada's other online platforms including its Blog, Facebook page and Escape The Mall microsite, aimed at helping Canadians find holiday deals online.
In addition, starting today, PayPal is launching a contest through which Canadian shoppers can enter to win a $2,500 online shopping spree. The Escape the Mall contest, promoted through the PayPal Canada Facebook page and a newly-launched microsite, encourages Canadians to vote on the best Holiday gift from a range of gifts available online. Through several rounds of voting, contestants can enter to win one of ten gifts valued at approximately $100 each, and also be entered into a draw for the Grand Prize - $2,500 transferred into their PayPal account.
The contest runs until December 20, 2010. Full details are available at paypal.ca/escapethemall